The Ultimate Chicken and Vegetable Pot Pie
---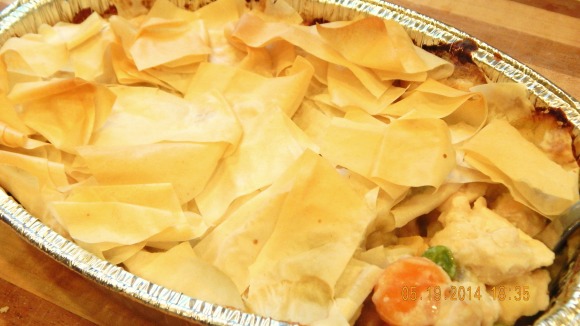 Ingredients
Sauce:
6 cups fresh cauliflower florets (about 1 small head)
2 1/2 cups chicken broth
1/2 teaspoon dried rosemary
1 tablespoon extra virgin olive oil
1/8 teaspoon ground black pepper
1/2 teaspoon garlic salt

Filling:
1 - 22oz. bag Tyson Griiled & Ready Oven Roasted Diced Chicken Breast
1 cup thinly sliced carrots coins
1 small yellow onion, diced, about 1 cup
1/2 cup thinly sliced celery stalks
2 cloves garlic, minced
1 tablespoon extra virgin olive oil
1/4 teaspoon garlic salt
1 cup frozen peas

Crust:
4 sheets (13" x 18") fillo dough
1 tablespoon extra virgin olive oil

Serves 4


Directions
Preheat the oven 350 degrees.
Cut the head of cauliflower into small florets, discarding any large stems. Place the florets, 2 cups of chicken broth, and dried rosemary into a large, 4 quart pot. Bring to a boil. Reduce the heat to medium and cook, covered, for 8-10 minutes. The florets should be very tender. Cooking time may vary depending on the size of the florets.
Meanwhile, place the diced onion, carrot coins, sliced celery, 1 tablespoon of olive oil, and 1/4 teaspoon of garlic salt into a skillet. Saute over medium heat for 6 minutes. Add in the minced garlic and cook for an additional 1-2 minutes. Turn off the heat. Stir in the Tyson Grilled and Ready Oven Roasted Diced Chicken Breast and frozen peas.
Empty the cooked florets and any remaining broth from the pot into a blender fitted with a top vent. Add in the 1/2 cup chicken broth, 1 tablespoon olive oil, 1/8 teaspoon ground black pepper and 1/2 teaspoon garlic salt. Blend on low and slowly increase the speed to puree. Puree the mixture for 30-60 seconds until creamy and silky smooth, free of lumps.
Pour the sauce over the chicken and vegetables. Stir to combine.
Evenly distribute the pot pie filling among 4 pans (I used 4 disposable 8"x 5" 1/4" Casserole Pans). Place the pans onto a stainless steel baking tray.
Remove 4 sheets of fillo dough from the package and place onto a dry cutting surface. Brush each sheet with olive oil. Using a pizza wheel, slice the sheets into 1"x4" pieces. The pieces do not have to be perfect. Take the fillo pieces from one sheet to top each pie. Scrunch each dough strip and place on top of the filling. Cover the entire surface of the filling with the scrunched fillo pieces.
Cook on the center rack inthe oven for 40 minutes.
Increase the stove temperature to broil. Broil the pot pie for 1-2 minutes, allowing to the fillo dough to brown. Keep a careful watch to prevent burning or blackening of the fillo. You just want to crisp and brown the dough.
Remove from the oven. Allow to rest for 5 minutes before serving.
Judging Criteria
40% Healthiness of recipe
40% Overall taste
20% Presentation
NO PURCHASE OR PAYMENT NECESSARY TO ENTER OR WIN THIS CONTEST. Open to legal residents of the 50 United States and D.C., age 18 or older and legal age of majority in applicable jurisdiction. Void where prohibited. Contest begins at 9:00 a.m. ET on April 23, 2014 and ends at 5:00 p.m. ET on May 30, 2014. For complete rules, click here. Sponsored by Tyson Foods, Inc., 2200 Don Tyson Parkway, Springdale, Arkansas 72762.