My Profile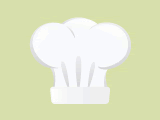 Chef #1544854
Canada
Member since Nov 2009
New Topic Really Basic Chilli in Recipe Requests - General
Feb 7, 2012 on Food.com
"I would like to have a very basic chilli recipe that must contain the listed ingredients and nothing else. Can anyone help me out?

Ground Beef
Onions
Garlic
Ground Tomatoes
Tomato Paste
Green Peppers (NO RED!)
Red Kidney Beans (Do you rinse the beans taken from the can?)
Chilli Powder (I think that you mix this with vinegaar)

I once ha..."